Short, but really nice!
From the Jagdschloss Resort  there is a nice asphalted road to the Finstertal reservoir (approx. 300 meters of altitude difference have to be overcome). The view at the different places, where benches invite to stay, compensate for the ascent. Past the Graf Ferdinand Haus, the starting point for the toboggan runs in winter, but they are closed in summer. Caution is only advised with the short tunnel, as it is very dark, but fortunately there is hardly any movement there. After about 35 minutes you reach the reservoir and are rewarded with a great view. At the moment there is just a revision, so there is hardly any water in the reservoir.
From there, many beautiful hikes go, for example to the Neunerkogel (2640 m), to the Schartenkopf (2855 m), to the Schweinfurter Hütte (2034 m) or even to a three thousand meter peak, the Sulzkogel (3016 m). Another possibility would be to go to the Drei Seen Hütte, where you can also get refreshments during the day. Back home, you can enjoy the wonderful view of Kühtai and the surrounding area once again and then, after a sauna, look forward to dinner in the lounge of the Drei-Seenhaus.
Here is a brief information about the Finstertal Reservoir: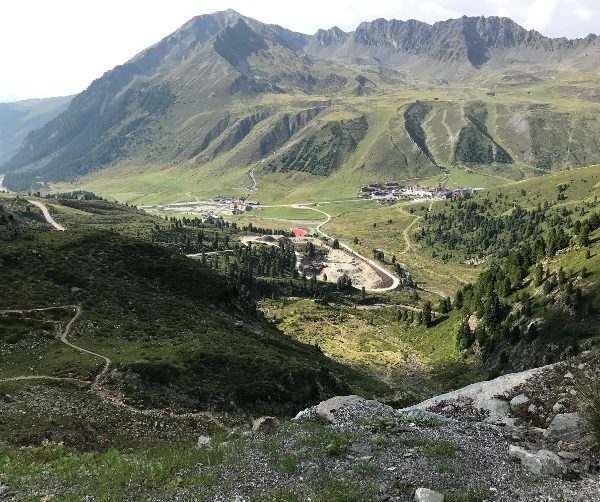 The Sellrain-Silz power plant group of Tiroler Wasserkraft AG is a plant located near Silz, west of Innsbruck, from the group of pumped storage power plants for the generation of peak load, which consists of the two storage lakes Finstertal and Längental and the power plants Kühtai and Silz. Water transported via streams into the Längental reservoir can be pumped into the higher-lying Finstertal reservoir at the Kühtai power plant, thereby gaining high-level energy which can be used again at peak demand times by first feeding water into the Längental reservoir and then through pipes laid in the rock massif with a height difference of over 1250 metres to the Silz power plant, where it drives turbines at high speed.